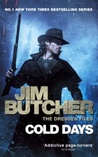 Cold Days
by
Jim Butcher
My rating:
4 of 5 stars
Productive day, this was third book which I was able to complete today, Almost completed the series, only the 15th part is remaining and after that it would the short stories collections and the Codex books. So bragging and future plan over now let's come back to this book, which sees Harry come back to life after the last book 'Ghost Story'. Though I liked the last book all fine but that was one book which you may skip too or rather Jim Butcher might have skipped it. But we did get it and I liked it. And I am glad to see that even though we are in the 14th book of the series the more the things remains the same they have also changed lot. I mean Changes was different and then Ghost Story and Cold Days both have been totally different books too.
So nice to see the freshness in the story which Mr. Butcher is able to bring to the Dresden Files. Harry is now the Winter Knight and so he gets his very first assignment and then all the things go to hell like they tend to do around Harry Dresden. This is so far the longest book series I have read after the Jack Reacher series and I love this series too just like that one from Lee Child. This one had a nice little mystery going on and poor Harry has to fight alone and sometimes with his friends before the city he loves and lives in goes kaboom.
Now these books and Harry and his friends almost feel like my own friends as I enjoy their adventures and although it was fun starting the series with 15 books in the bank but now soon they would be over and I would be in the same boat as the long time readers who are following this series for a long time and they had to wait for each and every book to release so that they can enjoy the latest tale. This is kinda like binging the series on the streaming platforms. I missed all these wonderful books as they were not available or I was aware about them but as I come to know about new books and I buy more and more books It allows me binge read eh books in those series.
Let's come back to the book and yes as far as my recommendation for this book go, yeah do pick this book but remember to read the first 13 books in the series and then just
Keep on Reading
.
View all my reviews